http://www.longhornblogs.com/bleblanc/archive/2005/09/13/14636.aspx
As I am watching the PDC 2005 Live Video Feed of the Keynote Address, they just got done introducing the new Build of Windows Vista - Build 5219 which we all already knew.
I want to talk about the Sidebar specifically. Microsoft has chosen to persue the Sidebar again after dropping it for a few builds in Vista.
The Sidebar is back and in full force.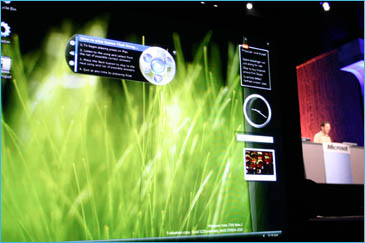 Chris Capossela shows off the new Sidebar with Gadgets at PDC this morning. The image is from
.

The Sidebar allows developers to write what they call "mini-apps" that take advantage of the Sidebar technology built into Vista. You can write DHTML, XML and scripts to do this and have mini-apps running on the Sidebar.
These mini-apps can run in the Sidebar are you can write them as what Microsoft calls
"Gadgets".
It looks like these Gadgets run like Apple's Dashboard Widgets run on OS X. You can have the Gadgets run within the Sidebar or drag them out onto your desktop.
I'm so freak'in excited about this I'm going crazy and I'm not even at PDC right now!
September 13, 2005 by
'Windows Sidebar' Showcased at PDC
September 13, 2005, 12:52 PM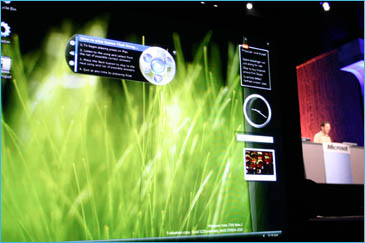 Microsoft's Chris Capossela took the stage during Bill Gates' Tuesday morning keynote to demo a new interim build of Windows Vista, which revives the Windows Sidebar. The Sidebar will be populated with "gadgets" and will feature an open platform for developers to create their own mini-applications. Sidebar gadgets can be dragged onto the desktop, and interact with standard Windows applications. Capossela showed off a Windows Media player gadget with advanced animation, along with standard search and RSS reader gadgets.
Windows Vista Sidebar gadgets will be made available for download at: